We survived the weekend! This was our second one technically with the Stay At Home initiative that California is currently under.  During the week we had decided to finally tackle a home project we've been looking to do for ages – painting our massive fireplace.  We started it Thursday night and did 2 coats of primer on one side.  We have a 4- sided one as it currently is in the middle of our living rooms (it divides 2 living rooms as well as a dining room).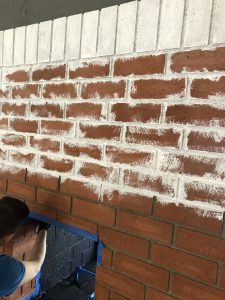 We kicked off a new tradition for Fridays while we're on quarantine – Movie Night with Sleepover!  This past Friday we actually stayed in the room with the kids BUT might be reconsidering that for future ones.  It was super light in the room because the kids said it was too dark without lights on (even though we did have 2 nightlights).  So I had turned on a Scentsy warmer in the kitchen for light, one on our entry table and ended up sleeping with an eye mask on. (Fun Fact – I found out your eyelids can sweat. LOL)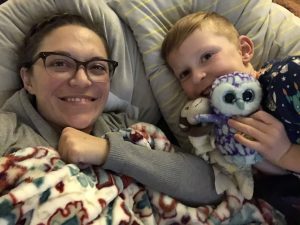 As a family we watched The Princess Bride and I was super excited and impressed that all 3 kids paid attention! We had popcorn and ice cream sandwiches and they stayed up till 10pm.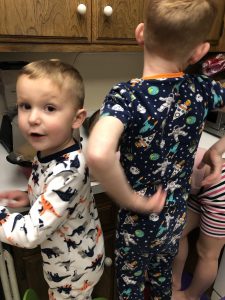 And of course, all were up by 6:30. Butters (our cat) puked right behind us so ya – that was fun! The rest of the weekend brought more paint and also having the kids outside as much as possible to enjoy the sunshine.  This included a charcuterie board lunch while they did a FaceTime session with their cousin.  They polished off that board! I was so impressed!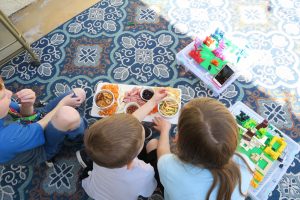 And of course it was our second weekend with our online streaming of our church service.  They announced that with the new Stay at Home initiative – all groups will be cancelled.  But to ensure that we all are plugged in, Mon-Wed they're doing 7pm bible studies live (Monday for adults, Tuesday for kids, Wednesday for teens) and then Thursday will be 'fireside chats' for about 20 minutes with our pastor.  Sundays will be our regular worship and we have a lot of other opportunities for connecting.
Yesterday Aubrey & Luke's normal Sunday school teacher did a zoom chat. We missed the live but we put on the streaming for them and they learned about John the Baptist.  Next weekend we'll be able to get them on it live as she's setting up a regular time for them to meet. I love how technology is just weaving into our days to help keep us connected.  It's helped so much!
Jon and I also watched both of the National Treasure movies.  We also enjoyed some wine from our friends that make it and are working on their license to sell. Shortbook Cellars is their name and we enjoyed a French Rosé.  I also found out Saturday that our school return date was extended from April 13th to May 5th. At first I had fun joking around about it, but Saturday night the emotions just kind of slipped into overwhelming sadness and had a bit of a cry session.
This time is so hard and filled with so much uncertainty.  Having this pushed out I wasn't sure how the kids would handle it and I think I just completely envisioned another outburst from Aubrey and anger from Luke.
Sunday we did talk about it before bedtime and I definitely feel the Spirit help guide me during that conversation. I wasn't sure what to say but man, the right words just came out and they completely understood. They didn't react any of the ways I thought they would, which was super nice.
So now we just wait and see if that works out or if push it out another time frame :/