Celebrations! We made it through our very first week!  It was touch and go at some points but overall, I think the kids have really done super well (and Jon and I too!).
Last night I came up with the idea of an unofficial National Camp In the Living Room Day (today!) so this morning I shared on Facebook and encouraged others to join.  I went live on my page to share the info with the kids. Were they excited? Not sure. But I think in the end they'll love it!
Our neighbors also talked today about participating in Chalk the Walk.  Using sidewalk chalk to decorate the sidewalks in front of our homes so other neighbors can enjoy it as they go for daily walks to get some exercise & fresh air during our mandated quarantine.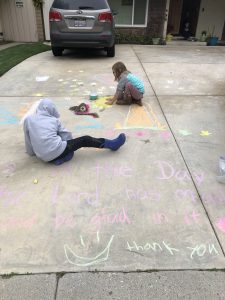 We dipped each sidewalk chalk into some water before we started writing. This lessens the dust of the chalk, provides a more vibrant color, and will last longer when people walk over it.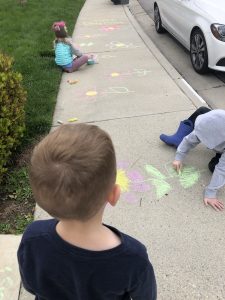 We used the main sidewalk as more of our path with flowers and then our driveway for more motivational messages and a volcano. But I was super impressed with Luke drawing his own roller coaster. The chalk path twists and turns and you spin round and round as you follow the line all over. Super creative!
Earlier in the day I had gone to work to catch up on some pending expense reports. This will be the last time for a long time as all trips have been cancelled by our client for our employees.  It took me way longer than I expected but the kids did well at home with Jon. When I got back, they all sort of did their own thing.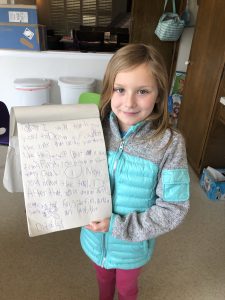 Aubrey worked on the writing suggestion from her teacher that was emailed. Taking a simple thing and being creative to explain in more detail on how to do it. So she wrote about how to draw a fish with details.  She did a really fantastic job describing the shapes, which direction, and in which order to get it done.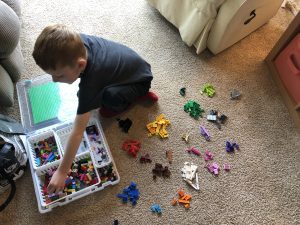 Luke decided to color sort all of his legos. (well, all the legos inside this case).  It took him a good while but once he finished he started working on creating a city with colored buildings.
Ryan is definitely suffering from FOMO with the big siblings (Fear Of Missing Out).  Today he grabbed his laptop and told us he was working on his Dreambox (This is an online math game both of the big kids use at school and at home).  There is a game on this computer to spell things out. And he did type out his name! He was very excited.
As we close upon week 1, I have a lot of thoughts.  I am very unsettled with not knowing how long this will be our new normal.  Every day more items come out in the news and part of me wonders how we will make it through.  We – as in our Dell household.  And then on a larger scale – how We, as a neighborhood, community, state, nation will make it through. We will, as history has demonstrated, but the road will definitely be rocky.
We believe  in Jesus and I know that any time we have trials thrown at us in life, it knocks us over but we do see all of those were to bring us closer to Him. I see this on a much grander scale. I'm calling this the Reset.  Sort of back to simpler times with lots of family bonding, outside time, using our creativity to fill the day.  But also there is more complication since EVERYONE is in the same boat as us. Everyone is working from home, with kids, (obviously there are careers and positions that have to work. but in general …)  Everyone has kids asking them what's going on, when they can go back to school, etc.
But I also have a lot of peace.  I remember a few weeks ago thinking about how much we had going on and I just didn't feel like I had a good amount of time to dedicate properly to things.  And now, I do.  So I'm going to be taking the time to get back to some journaling I found that I had started then stopped.  I had been wanting to do some business things (that I thought about earlier and of course now my mind is blank and I forgot to write it down. I hope it comes back).  We're working on some house projects that we've talked about, but didn't really have the time.  And we're also making memories with the kids.
Last night I realized the only other time I've had such uncertainty was after the '94 earthquake. I was in elementary school and I vividly remember how different things were.  And now here we are, in a similar state of uncertainty and going through something together that will be one for the history books.
So be kind to each other. Wash your hands. Stay home. Create memories.