Today is Monday! Every day is the same  but not.  Today we mixed it up and added in another element to our day.  I wanted to work on getting back into a bible study I started last year (Literally – the last entry was 3-19-2019 LOL!) and I needed to make time while it was quiet. So, I got on my work computer at 7am to get an hour of work in while the kids ate breakfast and watched tv.   Then at 8 I shut it off, grabbed the kids' study they're going to be doing (Thanks SheReadsTruth!) and I worked on my gratitude prayer journal and then a day of the original study I started in 2019.  (Grace is so key!).
Their bible study is going through the book of Matthew.  They have a few verses to read, a small question to answer, and then an activity to do on the other side. Nothing over complicated.  Then we watched another 20 minute video of Bible Heroes (From RightNow Media– and for a limited time during this crisis they're opening up membership to a limited library) and then it was 9am and ready to resume homeschool and work.
This week our topics cover insects, plants, sharks and compound words.  Quite a mix, right?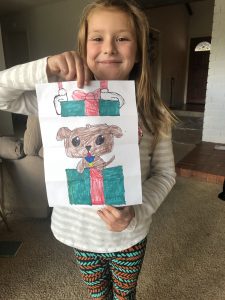 During the creative time, Aubrey watched more Art for Kids Hub on Youtube and did this dynamic drawing.  When it's folded, it's just a gift box. Open it up and there's a puppy hiding inside! She did such a great job. Her first drawing was an Arctic Fox and she said she did not like how it came out (it was adorable. I don't know what she was complaining about).  Luke worked on Legos during his creative time and Ryan and I played with blocks. His Virtual Behavioral therapy sessions start up tomorrow. It'll be a learning curve for us all (him, me and the therapist) but excited to bring back some of his routine.
We also drove to one of our district schools for lunch pickup.  A few are offering lunches to any child under 18.  We went for something different but I must have said something wrong because our lunches had no 'main course.' (Our friend went later and she did have hers). So going to make sure that the next time I don't say we have allergies. (I guess I wasn't clear?) The kids had a picnic on the floor and I retreated to our bedroom and ate some leftovers and watched the Facebook live from our moms group speaker at church (she recorded it friday, but I only saw about 30 minutes as I had a zoom at that same time with another church group).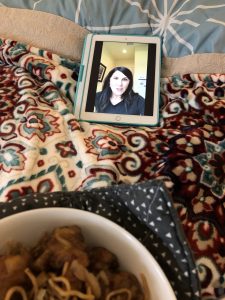 I've learned that there's several restaurants in our area (and others) that have discounted family meal options, or raw food purchases.  I know that Lazy Dog has a $40 family special for chicken, produce, milk, eggs and some other stuff to grab for curbside pickup.  Panda Express has a $20 family plan (normally this is $34.99 if memory serves me right).  It's 2 full sides, 3 mains and must be purchased online only.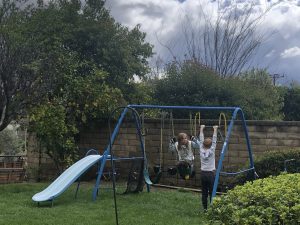 Outside play again while the weather is still good. Currently there are some VERY dark skies creeping in. I don't think it is supposed to rain again tonight but the clouds are telling a different story.  I'm very grateful for the yard we have. It's large enough for the kids to run around in, play on the swingset, and our concrete patio large enough for scooter time (not bikes).  It helps give them some change in scenery since we still have a long time to go.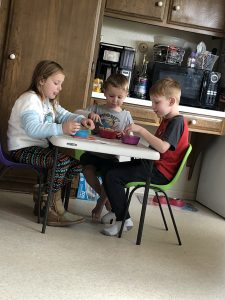 Snack time is a challenge. So please share with me what you do for snacks! (Don't comment here. I get a million spam comments. But share with me on Instagram or Facebook!)  Today we had yogurt and graham crackers. I told them they could dip them or eat them separate.  We had snacktime while learning about our compound words.  Also found out the really helpful tip of adding the plural to the important word.   They discussed hyphenated or open compound words.  Post Office would have Office being the important word so that's why it's Post Offices.  Daughter-in-law has Daughter be the important word so that is daughters-in-law! I guess even I learned something new with how you determine where the plural goes!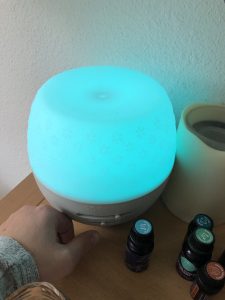 We're also working on improving our mood.  I hear citrus helps boost that dreariness so I took it to heart and turned on our diffuser with Grapefruit Blood Orange but this time turned the setting to low so it lasts the full 24 hours it says it will.
We wrapped up the day with our last section of academics with devices.  We watched YouTube videos on insects and the words, then we switched to playing BrainPop Jr on our chromebooks. I'm so so so so grateful we decided to have those be included for their Christmas presents. It is definitely saving us.  If we didn't have them, we they wouldn't be able to get a lot of their required school work both in the normal school year and also with all this current situation of Homeschool.