As you know, every month Scentsy releases an amazing specialty warmer and scent of the month that are on sale for 10% off during that month, and then available for 5 additional months (at full retail price).  And for almost the entire time I've been a Scentsy Consultant, I've had friends mention If you ever find a fragrance like such and such, let me know!
Sometimes it's a scent of a type of floral, or spice – but it's usually a specific candle they already use and love in their home.  I'd love to help convert you and my friends to Scentsy to allow for safe candle alternatives because I don't want anyone to be burned by the open flames, or forget they're on and leave them unattended, or have a little one get curious and touch the flickering candle. Ouch!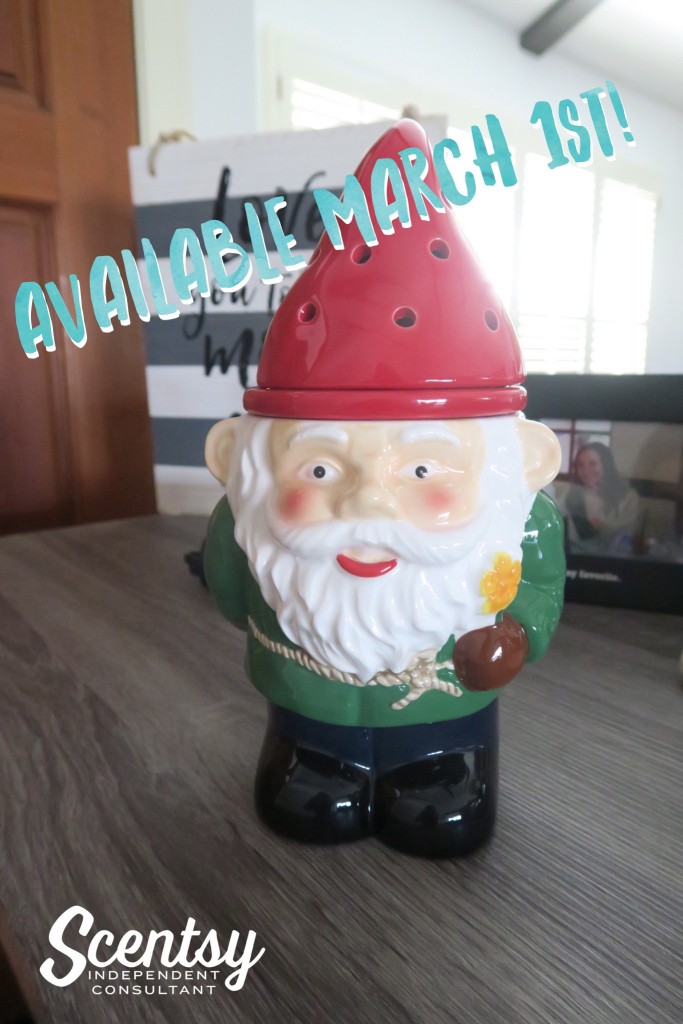 First, let's talk about our warmer!  This guy is yours to name when you bring him home and set up around your home, or in an open sitting room overlooking your garden.  The Garden Gnome warmer is all ceramic and hand painted and does not glow when turned on.  The only place that light will reflect out is through the holes in the back of him and cast adorable little shapes (usually hearts!) on your wall.
If you have any gardening lovers in your family, this little guy will warm their heart and keep their home smelling amazing!  He's currently on sale for $36 during the month of March.
To go with this warmer is something that I'm so excited to share.  One of the most requested fragrances is a dupe for the Anthropologie Volcano candle.  It's very citrusy, very fresh, and in VERY high demand.  I have a few Volcano lovers as customers and asked one (Megan) to test it out and to report back.
If you're new to Scentsy and found out about Blue Grotto from a search for a dupe of the Volcano Candle, check out this post to learn What Is Scentsy.
Best way to stock up?  Buy 5 bars and get one free! Just select all Blue Grotto and don't forget to check out all of our new warmers!
If the Garden Gnome isn't a match to your home decor, check out my new favorite – Southern Hospitality – an adorable white pineapple!