If you're new here, I've been sharing daily about our So Now We Homeschool  journey. But taking a brief break to share this as most schools across the country are going to move to a virtual environment.
In the past 2ish weeks, I've attended more Zoom chats and Facebook Messenger Video chats.  Being locked in your home to battle this overtaking of COVID-19 means the videos are the way to connecting with friends and family you'd normally see daily, weekly, or monthly.  For Scentsy, I attend a Zoom chat once a week on the regular but now our entire family is taking advantage for a variety of reasons.
This is Ryan.  He's my youngest and is 4 years old.  Last year he was diagnosed being on the Spectrum and we were approved for Behavioral Therapy that he started in September of 2019.  At his young age, they work on an intensive approach to try and help him as much as possible.  Prior to COVID-19, he had 15 hours of Behavioral Therapy a week.  Once schools shut down, we also paused his therapy.  My mom lives with us and is in the high-risk camp so we were taking the quarantine guidelines very seriously.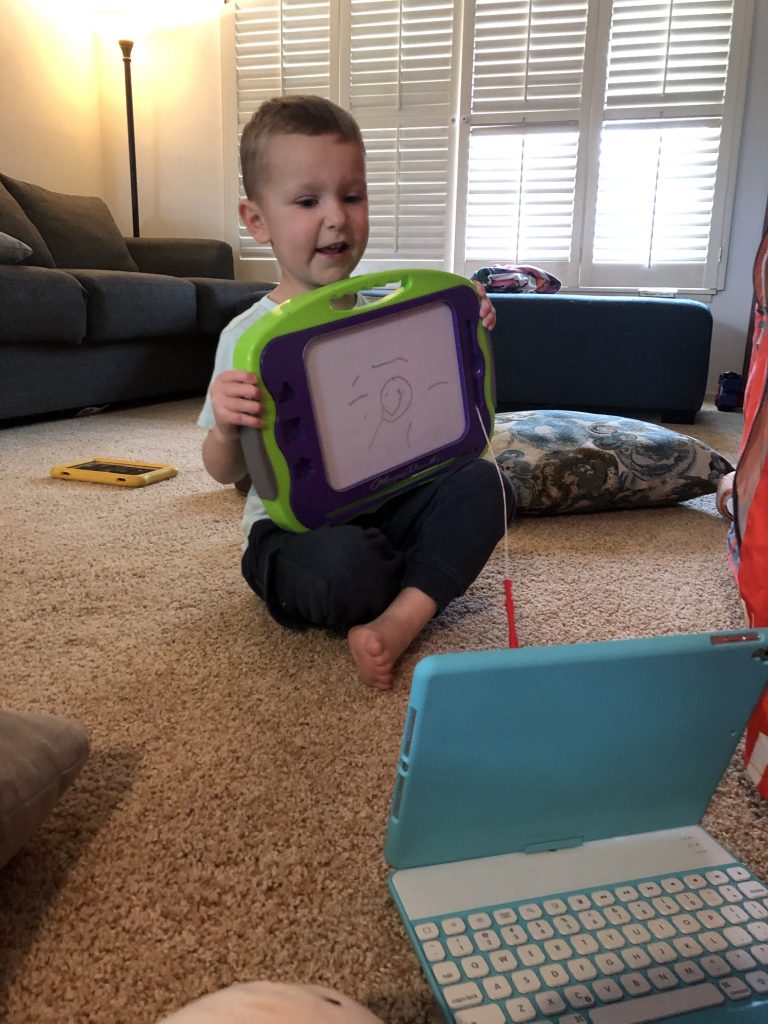 My sister had suggested we find out if we would be able to qualify for Telehealth (virtual sessions) and we were able to.  So even at 4 years old, I've been working with him on etiquette for his video chats.  Our older children (6 & 8) are also being told what is appropriate and what is not during video chats as I know soon our school district will be implementing Google Classroom that can potentially have a video element.
Since our kids are young, we kept it simple.  How you act in school is how you act on video.  If you do not stick your tongue out and make silly faces at the teacher while talking – you shouldn't do it on video either.  That's a simple one. But here are some others to teach your kids when they're in a classroom setting online.
Use the Mute Button.
On my weekly Scentsy talk, this is highly taken advantage of.  There could be background sounds that can pick up on the microphone that can make it hard for others to hear whomever is talking.  This button is especially important if there's also other people in the house and talk loudly (guilty!)
The Mute Button should always be on unless you have something to say. In the classroom environment, speaking out of turn is not appreciated. Same with video chats. Zoom has a Raise Hand feature to get the leader's attention on who would like to contribute something or has something to say.
Turn Your Video Off If You Step Away.
Another feature of Zoom (And also Facebook Video Messenger. Not familiar – yet – with Google Classroom) is the ability to turn off your camera.  This is important if there's other little brothers or sisters at home and could walk in while you step out of the room.  On Zoom your normal video will be replaced with either a still image of yourself or will have a black screen with your name in lettering.  On Facebook Video Messenger the normal video goes dark and notifies the other participants that your camera was turned off.
Wear Day Clothes. At least on top.
Each day during homeschool everyone gets dressed for the day.  It could be comfy clothing but everyone takes off their PJs and puts on regular clothes.  This will also help to keep the distractions (hopefully) at a minimum during the video conference.  I can just imagine a bunch of 1st graders talking about one of the other kid's pajamas since it's not something they would normally experience if they were actually at school for the day.
Be Kind To Your Teacher
It's the first rodeo for most of the teachers in the Santa Clarita Valley going to online learning.  Let your children know there could be some mistakes or technical difficulties.  Older kids should have the ability to understand what this means easier than my 4 year old.  On our first zoom, one of the therapists got disconnected and while we were trying to get her back online he kept asking where she went and wanted to keep hitting all the icons on my ipad.  Things will happen but as time goes on, this, too, will become their new normal.
If you can, practice with your kids some Zoom chats to become somewhat familiar with how video conversations go.   If you have under 3 people in the video chat, there is not a limit on the free Zoom account.  If you have more than 3 people on the call, it is currently maxed out at 40 minutes. Some times it provides an additional 10 minutes for the leader to see and I have heard that they are raising the time due to COVID-19 and the needs of the community but I have not noticed that yet.
Thanks for taking the time to read!