Well, I slightly got behind on my recap posts but I'm here to do one quick catch-up while my sourdough bread is baking. Yes, apparently now I bake bread!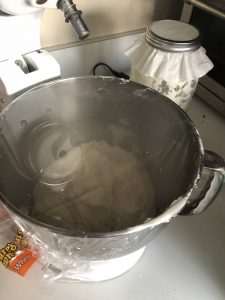 I will keep you posted on how that turns out!  So the end of last week was kind of a blur.  We decided Friday was no work day for the kids outside of the hour and a half of Ryan's therapy (during this time they had worksheets, reading, and writing in their diary to accomplish).  Ryan said it was also PJ day and we also did another family movie night.  We watched in the living room Mighty Ducks and we all slept there. I woke up at 4am and smelled a skunk from outside so I retreated to our bedroom 🙂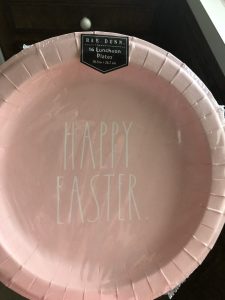 Since Easter has been changed from big celebrations to intimate gatherings, we used our Happy Easter plates I originally purchase for my mom's group to use at church.  We ordered in pizza on Saturday and ate off the plates. I really missed Papa John's pizza and was super happy they had a deal AND I had some Dough Cash in the app for an extra $10 off!
I posted on Instagram asking if anyone ate their kids' breadsticks. Most posted yes.  Jon said no. So I enjoyed dipping this in the garlic sauce and having some more carbs.
On Thursday  I picked up my cups that we originally had made for our trip to Cancun (which we should still be on. Darn Corona Virus :/ ) from my friend that does amazing work – Jiminy Cricut Crafts (she's on Instagram!)  The other side says Vacation. But since I'm home, I drank with the Staycation facing out.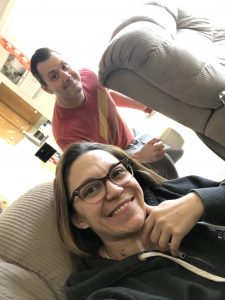 We enjoyed church from home again.  Jon made Cinnamon Crumble coffee cake cupcakes Saturday night for us to enjoy Sunday morning.  We sure do love our carbs. LOL. I'm determined to wear a pair of jeans at least once this week to make sure they still fit. LOL.
We got the cutest Toilet Paper Gram from our friend/neighbor.  She also coordinated with my favorite color – teal – for the chips & the ribbon. #Winning!
We also made HUGE progress on our fireplace. Everything is painted (well. I lie.  We have the wall in our dining room that we had decided to paint the matching gray color for the rest of the walls but we need to buy another gallon of it) and once we get the trim up I will take some great photos and share!
Who is ready to kick off Homeschool week #3???