Today was a new day with a whole new experience!  Last week we received approval from our insurance to start Ryan's behavioral therapy at home via Telehealth.  Today was our first one and wow – what an experience. LOL. Not good or bad, just completely different.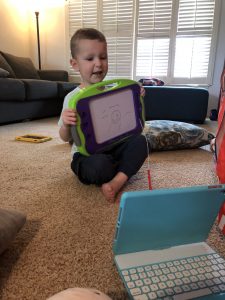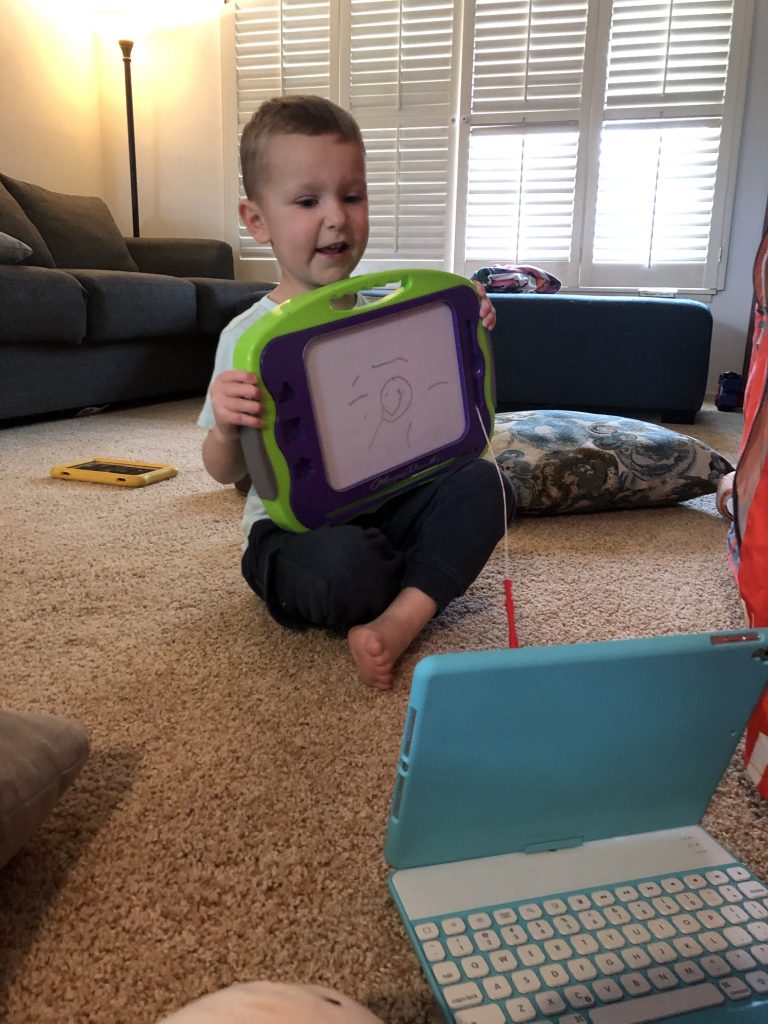 He was set up on my ipad (I'm SO GRATEFUL for that keyboard stand I bought last summer! – Amazon Referral Link Here) and I basically would adjust the angle of it to capture whatever he was doing in the screen.  We grabbed different colored blocks and his BT (Behavioral Therapist) would tell him which blocks to place on which ones using their colors to identify.  He also did some drawing and he showed his BT around some of the new things in our living room (the kids' pop up tents, fireplace, Butters the cat)
But – it is a challenge – to work through stuff but I'm more grateful that we have this avenue to pursue vs nothing.  As time has gone on, he's been having more trouble with some things and he's made such amazing progress over the past few months that I'm glad to have something to work on getting us back on track.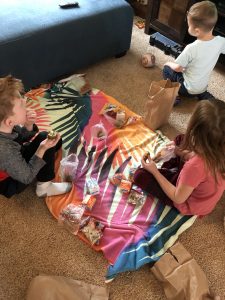 Today we went ahead and also grabbed lunch from our neighborhood school. This time we had chicken tenders, carrots, crackers, and kiwis.  I was actually happy that the chicken tenders were warm and the kids ate everything with little complaints!  Aubrey (we learned a year or so ago) is actually allergic to kiwis.  She had always wanted them and then we got them.  She had some one day, and then the next day as she was eating it she told us her tongue was itchy :/  So that fruit is not an option for her anymore. But guess who actually tried it and loved it!?!
This guy! I came back in from the garage and he was eating it! He asked for another one later during snack time. Trying new foods with him is always hit or miss (usually miss) so that was an awesome thing to watch him do. I think the excitement of a living room picnic did the trick.  Also, this is his Cheese face.  His eyebrows go up and it's literally the cutest thing ever.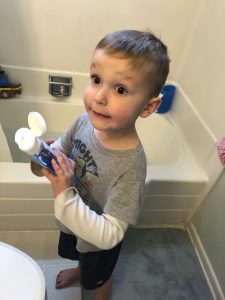 See? This was him last night.  I  told him to say Cheese! and his eyebrows go up and it makes me laugh every time.  Last night he got to have a bubble bath and then his big bro decided to join him.  (Best Bubbles Ever – Jammy Time is the perfect kid scent!)
Jon picked up the paint  brush again. We have a little more section to prime before we can ACTUALLY get paint on this massive beast!  I can't wait to share what color we chose!