A few years ago, on my old blog, I wrote about how I kept getting in the habit of really wanting something, but then growing impatient, and just finding something for less. Honestly it's always been my MO – to find the best possible deal.  The biggest category this happens in is fashion. I'm not a big fashion person but there's things throughout my life I've always wanted but life happens and other priorities come up.
In July 2017, I was sitting at home watching a video on the next big Scentsy trip that we had to work to earn.  I was watching someone stream it live and it was super hard to determine what it was, but I knew it was a cruise, and I knew it was going somewhere to make everyone go bonkers.  Eventually, once the video they were airing live at the convention center ended, the owners of Scentsy said clearly where it was – a 7 day Mediterranean cruise that left from Barcelona.  Oh-Em-Gee I was so stinking excited for a few reasons.  But I'm going to share one of them with you today.
We have to rewind a bit.  Right after we had Luke, Jon decided he wanted to go back to school to get his Master's in Business.  He chose a college that had a lot of great opportunities for learning and one main element (that was optional) were 2 international trips that counted as credits.  The first was to Germany and the second was to Europe.  We talked about how awesome it would be if I could join him during that 2nd trip for a week or so.  What an opportunity!
[Here's where I wish I had a photo of Jon on his first day with one of those signs like we have our kids hold up every new school year. oh well!]
Time continued on, he continued going to class, and then we got pregnant with Ryan.  I was pregnant for his Germany trip, and was with a new baby for the Europe trip.  With each trip, he came home with gifts for our family (the kids, my mom, and sometimes me).  The first trip he bought me a Tumi purse that had my initials and I absolutely loved it.  I'm not one to splurge on purses so I definitely didn't ask him how much it cost.  I did know that purchasing stuff internationally was always a discount from the cost here in the states since there's no sales tax and you can VAT refunded back.
The Europe trip was much harder on the family.  Our kids were all a year older and the trip was a week longer.  It was hard on all of us and when he came back, it was awesome.  He got home super late so the kids didn't see him till the following morning.  We gave my mom the gift he got her and it was Louis Vuitton.  I was shocked! He told me he was going to figure out her gift and I just gave him some guidelines (cross body preferred, nothing too big or heavy).  I knew ahead of time that finances weren't on our side at the time so was just happy we could gift her something so amazing because she does so much for our family. And since we all live under one roof, she sees the good, the bad, and the chaotic. LOL.
It was later that night that I got a surprise and it was my very first LV item – a wallet I saw earlier in the summer (I did send him a whole list of stuff I wanted but then we realized we didn't have the funds for it).  I was SHOCKED. He told me that he wanted to get me something, and that my next purchase would be something I could get myself and get the full experience of Louis Vuitton (and preferably international!).
Ok back to 2017.  I started working immediately on a game plan to get Jon and I on that boat. I was getting so excited the closer and closer I got.  Spoiler alert, we got on the boat.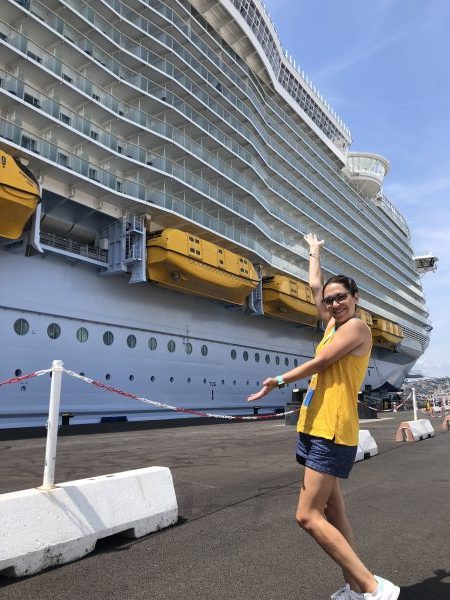 We also decided to start our trip early in Barcelona, exactly where Jon had spent some time on his Europe trip. I've never been immersed in a city outside of the states before. I've been to Jamaica and Mexico on resorts but this was a change and completely awesome!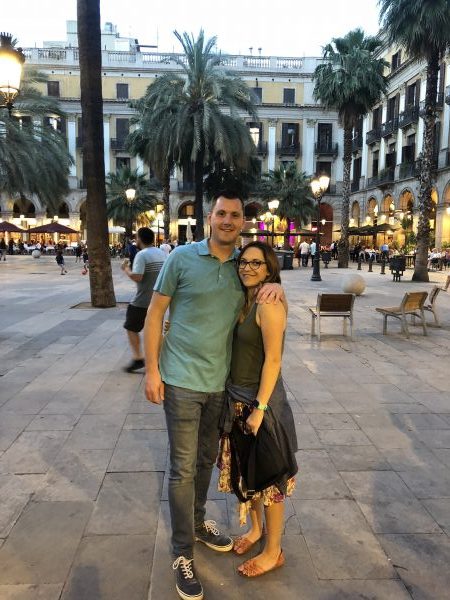 And from the moment that 6 month clock started going for me to earn the trip for us, I also immediately started saving money to buy a Louis Vuitton purse in Barcelona – the exact store that Jon purchased my wallet from.  In January when I got official word I made the trip, I kept an eye on my savings and kept working on getting closer and closer.  I am a firm believer that any goal can really drive you to working you and getting creative on ways to make it happen.
In March I realized I was running short on my money. I really wanted to prove to myself I could earn this money on my own.  I started looking around at what I could sell.  Previously I had been a distributor for a makeup company and had sitting inventory.  I sold it all.  I had some items in the garage that I had no further use for.  I sold that too.  In the end, as we started packing for our trip in the middle of May, I realized I had saved all the money for that bag I've always wanted. Yes, I remember clear as day when I was in high school standing in line for a movie with my BFF at our theater in town the discussion on Louis Vuitton.  I graduated high school in 2000 so this has obviously been a long standing dream.
I may have been hot, sweaty, gross but my money was as good as anyone else's.  The bag was the biggest purchase I've done and I cherish that thing.  It celebrates almost a year's worth of hard work on making 2 dreams happen – 1) taking Jon on an all expenses paid trip to Europe 2) paying cash for the purse of my dreams.
That vacation in every way was a dream.  I can't wait to continue to keep working hard and see what else God has lined up for me!
Information is always free. If you're ever curious about what it takes, what it costs, what you get – please let me know!  I pride myself in being 100% transparent on all aspects.  In the end, your success is up to you but having a supportive community can make the world of difference!
Contact Me Today for any questions on joining, hosting, or buying.